Professional Experience
for Derry Lyons
Online Resume (MS word format)
Current Status
I am proud to be the Director of Information Technology Services for the South Kitsap School District in Port Orchard, WA. Our department consists of 12 people with expertise in desktop support, networking, telephone/VoIP, and student information. I'm truly blessed to have a great team and a supportive leadership team.
Technical Development
Most of my technical projects are still featured on the tour of the Kent School District web site. These innovative tools were built with a combination of Oracle, Oracle's PL/SQL language and Perl scripting.
I have developed several Oracle and Access databases (complete list coming soon) both for performing data analysis and improving user interfaces for non-technical users.
Training / Professional Development
I have conducted training sessions across the country on topics ranging from the "Kent School District Teacher's Toolbox" to "Building CGI scripts in an hour". Audiences have included the general public, classroom teachers, school district administrators, CEO's - all come away energized and empowered. You're welcome to review the evaluations and handouts from classes I've taught.
Flexibility / Adaptability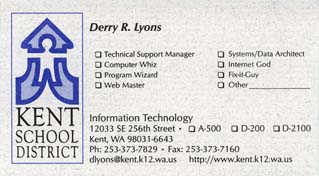 My friends in Printing Services let me know their true thoughts of my talents, and they were tired of printing new business cards for me. The idea is to "check one" for my title du jour. As I gained more experience and took on new challenges, it was hard to keep me in accurate business cards!