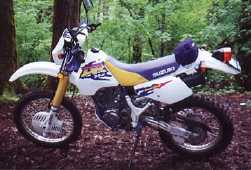 About Me...
You know the flyin' crazy adrenaline junkies you see in those wild motorcross videos? Not for me, sorry. I'd much rather tour the countryside God has made for us and enjoy the technical maneuvers you can only do on a bike. And, if I get tired, bail out and hit the road. More info...
Are you riding on the street? Even if you're already endorsed, PLEASE take a Motorcycle Safety Course! It's the best investment you'll ever make.

PLACES TO RIDE!
GREENWATER
TAHUYA
There are currently 8 trails to ride for the non-street legals, including the Naches Pass which connects with the Naches trails on the east end (after July 15). Maps available in the future. More info...
Tahuya is a great place to learn to ride, or for some easy crusing. Hardly any hills, but some narrow spots. Great whoopdy-dos, if you're so inclined. A MAP (PDF format) is also available, which you WILL need if you get too far away from camp.
EVANS CREEK
TANEUM/CLE ELUM
Evans Creek is located southeast of the Enumclaw/Buckley/Wilkeson area. There is a good variety of trails for bikes, 4-wheelers, and Jeeps. Being in the shadow of Mt. Rainier, it has some wonderful scenery, too! A MAP is also available. Take your snow boots...
The famous Cle Elum riding, these trails connect with the trails in Naches if you're up for a ride. Several water crossings, so wear your riding boots. More info...

RANDLE

Some great riding in southwest Washington. The Forest Service has some pretty good maps of the area - look for the Northern Trail Guide.

Back to Derry's Page